Skrill Betting Sites
Skrill Betting – How to Fund Your Account with the Most Reputable of Online Wallets
How many money transfer providers advertise themselves as "Accepted at Leading Betting Sites"? Skrill hails themselves as "your best bet" when it comes to online gambling, and they may have a point. Skrill betting is a fast and secure way to handle gambling transactions.
Moreover, they have so many partners worldwide that customers can move money from their e-wallet account into over a hundred alternative payment methods. Now that we have piqued your interest, please enjoy our list of top football bookmakers in our Skrill review.
What Is Skrill, and Why Punters Use It?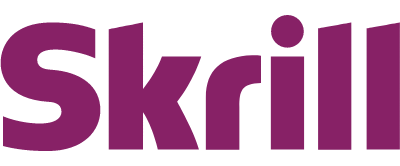 Skrill is an e-wallet business that provides customers with payment and money-transfer solutions. It is a public company listed on the FTSE exchange, and the Financial Conduct Authority fully regulates it. The company differentiates itself from its competitors by the number of partners it has worldwide. The e-wallet works with more than one hundred alternative payment methods across the globe.
What really makes Skrill shine in the sports betting community, however, is their history with online gambling. Back in the early 2000s, Moneybookers (its old name) was a popular method to transfer quid into betting accounts. Since it was a UK company, it was a popular and accessible way to move money across the internet. To this day, the majority of top betting sites accept Skrill.
A Few Details about Betting Sites Which Accept Skrill
Some betting sites that accept Skrill will not consider it a qualifying deposit for welcome bonuses. Having this in mind, punters can check in advance the terms and conditions for the sign-up offers of their preferred betting sites.
Furthermore, the minimum deposit sums can be different for e-wallets and cards. Some websites have better rates in this regard for Skrill than they do for other methods. While a £5 difference may not sound like a big deal, it is good to consider this in advance.
Best Skrill Betting Sites
How to Deposit using This Digital Wallet
In case you are making a first-time deposit with Skrill, you will need to confirm your identity first. Nowadays, it is impossible to use a sportsbook without passing a Know Your Customer (KYC) check. The UK Gambling Commission mandates these checks to battle money laundering schemes. Thanks to this step, we don't need to report our gambling winnings for tax purposes.
As soon as the bookmaker gives you the green light for passing the identity check, you can continue with making your first deposit. It is as straightforward as it could be from here:
Step 1

Log into your sports betting account and open the deposit menu.

Step 2

Locate Skrill as a payment method and select it. A lot of bookmakers bundle together e-wallets into a separate tab, so look for an 'e-Wallets' or 'Digital Wallets' tab.

Step 3

Select the amount you wish to deposit into your sports betting account and click to proceed.

Step 4

You will be transferred to a new browser window. It might happen through a pop-up window, so keep an eye open for notifications, if you don't have these enabled for your browser. You will be asked for your login details.

In case you don't have an account, you will be prompted to open an e-wallet account now.

Step 5

Approve the deposit amount and proceed to your betting account. Most betting sites that accept Skrill will register the deposit almost instantly.
How to Withdraw from Bookies to Skrill
Bookmakers often do not allow customers to select their preferred withdrawal method. They instead credit the same method used for the deposit. If more than one deposit options are used, bookies will withdraw money to the respective accounts in the order and amounts initially deposited. For example, if a customer has deposited £150 with Mastercard and another £200 with Skrill, the bookmaker will issue an initial withdrawal of £150 to Mastercard, and then switch to Skrill. This is a common practice adopted by most internet businesses.
How Safe Is the E-wallet?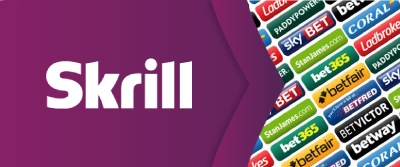 As a financial services company, Skrill has some tough standards to cover. They run encryption technology, which is PCI-DSS Level 1. This is the security standard for the payment card industry, and it is considered unbreakable for any practical purposes.
Furthermore, Skrill provides substantial safety resources on their support page. The FAQs include advice on how to detect phishing scams, but they also have instructions on activating Two-Factor and PIN Authentication. These two methods increase account security and make online betting with Skrill even safer.
Are There Charges for Using Skrill?
When you deposit or withdraw money from betting sites with Skrill, you will not be charged any extra fees from the bookmakers. However, using the e-wallet does not come without charges. For example, uploading funds to your e-wallet account comes with a 1% charge per transaction. Furthermore, withdrawing money from the e-wallet account comes with a 7.50% fee, which is a bit steep.
A way to lower the fees or to eliminate them completely is to become eligible for Skrill's VIP Program. Customers need to transact at least 6,000 Euro in a quarter to be eligible for the lowest Bronze tier. In order to eliminate the bank withdrawal fee, 15,000 Euro should be transacted within the quarter.
What Are the Pros and Cons of Using Skrill?
There are notable advantages and disadvantages to owning a Skrill account. While sports betting is our primary concern, there are other features to consider as well. After all, the more information people have, the better decision they can make. Here is the breakdown:
Advantages
Punters depositing and withdrawing with Skrill enjoy fast timeframes with bookmakers. In the best-case scenario, customers can have their winnings within a day.
All it takes is to log into your e-wallet account, instead of typing your credit card information. In addition, with Skrill 1-Tap customers can skip even the login; all they need is to authorise the payment through their phone.
Once customers set up an account, their payment details are no longer needed for any transactions. Add the Two Factor Authentication, and the account is impenetrable.
The e-wallet has over one hundred financial partners worldwide, and they can even convert money to the most popular cryptocurrencies.
People who move a lot of money around will find this feature very attractive. Lower rates and extra perks can certainly improve any service.
Disadvantages
Seven percent is too much for withdrawing money from the e-wallet account.
This may not look like a big deal, but for punters, it is a disadvantage worth considering.
While this e-wallet can be used for the most popular online stores, a lot of businesses don't work with them.
Skrill Offers a Competitive Service to Its Clients
Betting using Skrill definitely offers some advantages. Quick withdrawal for over their competitors like the 100+ alternative payment methods that customers can transfer to. Their loyalty programme also brings value to the table, especially for people who make a lot of payments.
However, Skrill's services are a bit more expensive to use than PayPal's, and this can tip the scales away from them for many users. In the end, it is a matter of careful consideration, so if you need more information to make up your mind, please check our PayPal review.
Frequently Asked Questions
💳Q: How Does Skrill Work?
💬A: Skrill facilitates payments and money transfer across the world. They create an electronic wallet for their customers that functions much like a bank account. Moreover, Skrill adds convenience and security to handling money transactions by facilitating a user-friendly platform and simple mechanisms.
👤Q: What Is a Skrill Account?
💬A: The Skrill account is a digital wallet tied to a username and password. This online account can be used for payments and money transfer. It is commonly linked to a personal or business bank account for convenience.